Post by .:[R]Plus:. on Mar 27, 2014 9:18:49 GMT -5

romantic time in the latest installment of the game is much harder than before but surprisingly more natural and fun to do, it no longer becomes a passive chore and doesn't drag for too long like any previous installment, so it's rather unpredictable and more realistic when you have to try that much harder to please the girl. it's a bit sadistic but in a good way.
-------------------------
-
[
Initiation part
]
when the finger logo will appear at the top of your screen it's your chance to initiate skinship. try to patiently wait and poke her when the public eyes are shutting down to gain a good star that will result into a satisfactory filling of the big orange heart. Some locations are labeled as 'DATE SPOT' and the public eyes there are less strict. there are three levels of strictness, RED/ORANGE/GREEN with RED eyes being the hardest stares to avoid and perform under.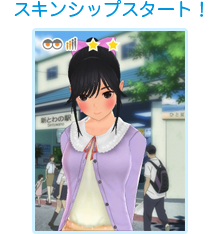 to fill the orange heart up the top you have to successfully collect atleast 4/5 stars to go through to the next process otherwise you don't fill in the heart and don't move on. girl's reaction to touching is also unpredictable so be carefully where you touch her cause you might make the girl embarrassed or anxious and she will cut the initiation short. usually the forehead, hair, cheeks and neck are spots that she will appreciate your caress.
-------------------------
-
[
Caressing part
]
you no longer get a colored line residue this time to recognize if you are touching a hot spot or not but rather a colorless chain of sparkling stars. you now rather get an idea if you're touching a hotspot by the amount of hearts that float off to the big heart collector.
hot spot
= many big&normal sized hearts and also "+" hearts that give you extra time and extra points.
cold spot
= few sporadic single tiny hearts that lead to blue "-" hearts if you continue stroking the cold spot.
find a hot spot and start with very small circle and medium to fast speed strokes, continue till the hot spot dries out or it's time to stop and then try to find a different spot.
Once you notice a purple heart that comes out while you're stroking a hot spot it means that the spot will soon cool off and if you don't stop stroking in time might result into a sudden big blue "-" heart that will demolish what you collected. if you do stop in time, within a second or two after the purple heart appears you win a "+TIME" heart. If you stop too soon you don't get the "+TIME" heart. a spot can give multiple hearts up to three times so be sure to test the same spot after a purple heart before moving to another postilion.
+TIME
=when gaining a +TIME heart you receive bonus time that is added to the ticking clock, during this free zone timeline you will be able to collect hearts without having to search for a hot spot or the hearts drying out.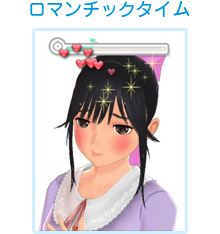 Also you can no longer collect up to 5 kisses in one go and without some effort cause a clock is timing you and it's barely enough time to collect one kiss. but you do however now win +TIME points if you perform the physical contact correctly so once so once you master the stroking technique you'll be able to collect more time to gain more kisses and any portion you collect is saved for next time. girl's reaction is now also very unpredictable and she also might initiate a recurrent kissing event herself even if you initially have only collected one kiss.
-------------------------
-
[.__.];
you will then be given two options, first option is to proceed to skinship, second option is to save the kiss you earned for later. you will be able to use the amount of kisses you've earned the next time you decide to proceed to the kissing part.
([
v0.bug
]: you cannot collect kisses if you're in a special trip like the Enoshima trip)
-
[
Kissing part
]
this part is now much closer to the techniques used in the first installment(s) of the game. you recognize the type of kiss she wishes from you by the way the girl positions or tilts her head and her eye movements or shimmer.
head sideways
= cheek
head sideways with hand on chin
= ear
face looking straight eyes closed
= one short peck to the lips
tilted head downwards with closed eyes
= forehead
eyebrows arched no eye shimmering
= chin to the sides
eyebrows arched with eyes shimmering
= long kiss to the lips
no expression
= do nothing till next face
To gain the perfect kiss wait for the special moment when she closes here eyes.
-------------------------
-
(position and requirements might change since these are the correct positions for LP/LP+, please comment to make a change)