Post by godlydan on Jul 10, 2011 17:45:03 GMT -5
Well, when I started I wanted to know about these, however, I could barely find any info, so now that I have a bit more knowledge of the game I wanted to share it with all of you so that you can at least enjoy a bit more I hope


Let's start with the obvious thing, and that is, to get to the games themselves. When you enter the Love Plus Mode there are some options, so we choose the one that says 彼女とあそぶ (Playing with her or something along those lines lol), then depending of how much we have played the game and what have we accomplished, the games available will be different.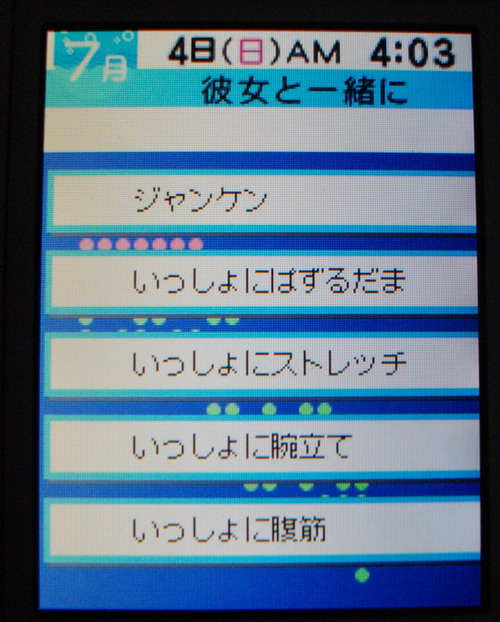 [glow=red,2,300]
ジャンケン
[/glow]
This one will be available as long as your girl is happy, for how to play it well, we know the place right?
sites.google.com/site/loveplusguide/love-plus-mode
[glow=red,2,300]
いっしょにぱずるだま
[/glow]
This will launch the game named もえろ!対戦ぱずるだま プレイ動画 (
Moero! Taisen Puzzle Dama
), a version of the popular "Taisen Puzzle Dama" series that Konami launched around 1994 for arcades and have had many versions over the years.
You can choose to play as one of the three girls (
Manaka Takane, Rinko Kobayakawa
and
Nene Anegasaki
) depending of who is your girl, and also, it's possible to select characters like
Dixie Clemets
from
Rumble Roses
,
Mimi & Nyami
from
Pop 'n Music
, plus
Sharon
and
Medea
from
Quiz Magic Academy 7
.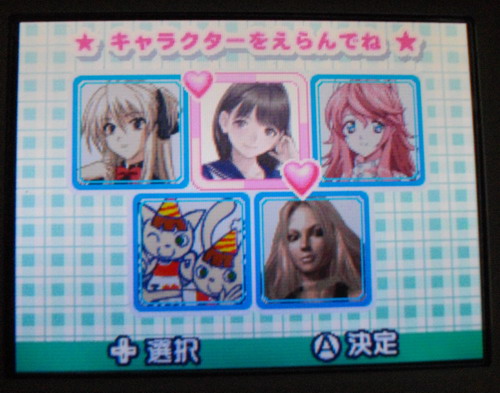 The game is unlocked by either having transfered data from the original Love Plus game, going to the electronics shop(電気街) 50 times*, have 5 medals* or an unknown other method as I'm pretty sure I had it without doing any of the things above(any info about that would be appreciated ;D)
*Means I'm not sure and need proof of those ways to unlock the game.
・At the title screen of the minigame you can touch any of the character silhouettes to listen to them, not so important but a cool fact hehe.
・After you choose your character you need to select the attack pattern, which I'm not pretty sure how it works so again any insight in it will be appreciated.
・There are two "prizes" as far as I know, those being mail alert tones, with Manaka at least I got one that goes [メルメルメル~♪] and the other being [*insert girl name here*メール♥] , the first one can be unlocked apparently by getting in the highscores* the second one needs either that you clear the stages in a certain time or simply clear all the stages.
*Means that again, I'm not sure about it

[glow=red,2,300]
いっしょにストレッチ/ いっしょに腕立て/いっしょに腹筋
[/glow]
These are the ones refered as
Love Fitness
and as the name suggests you'll do excercise with your girl.
As far as how these are unlocked I don't have a single clue, maybe going to the gym or just the Sports Center for some time?
And that's all I know so far, any info anyone can give would be great..oh and also a request...if someone knows the song that plays in the first stage of the Puzzle Dama game please PLEASE tell me!